Petit texte personnel :
En anglais / In English
En français
En Silarg (écriture latine)
En Silarg transcrit en Argpal.


Crossed desires
« Seeing this boy I cannot retain my breath.
My will would like that I look away from him but apart him nothing exists.
Stopping however seems impossible to me and more than all I suffer.
He is there, approaches, skims me, we go on the same track, the same road.
We go away one from another and already the desire is only made of memories, so much of crossed destinies, so much of forgotten images gather in an attractive puzzle.
Far away another silhouette takes shape, the scene soon will start again.
I think whereas the life is only good and bad memories until the ultimate nothingness… »


Argor


La croisée des désirs
« A la vue de ce garçon je ne peux retenir mon souffle.
Ma volonté voudrait que je regarde ailleurs mais en dehors de lui rien n'existe.
M'arrêter pourtant me semble impossible et plus que tout je souffre.
Il est là, se rapproche, me frôle, nous marchons sur la même piste, la même route.
Nous nous éloignons et déjà l'envie fait place aux souvenirs, tant de destins croisés, tant d'images oubliées se rassemblent en un puzzle fascinant.
Au loin une autre silhouette se dessine, la scène va bientôt recommencer.
Je pense alors que la vie n'est que souvenirs bons et mauvais jusqu'à l'ultime néant… »
Argor


U ibs csaqh

« Vwidh oz wir tod on cwerca jo fhaqh.
Jo cwaqh cwyrq aqh swera awl ma qag yem ihns viwyd. Pawa ew cajt cwajyd ojc on-teew ej pew da pah algod.
Syed eqh, phoenyed, frylyed aqh, dqawnud ol u mi wee, u mi rol.
Lojnud do-it ej dqa u ehv lifyd spaj fto u mems, tahw stins csath, tahw ejgs blath glomihd in y fascyr pyzl.
Lohjl y yt scja dqajlyd, u scehn intyd ahj.
Tym psod u wit syd coj ju ej dqoe mems us u phath nil… »
Argor

Version Silarg transcrite dans ma fonte "Argor Flahm Scaqh"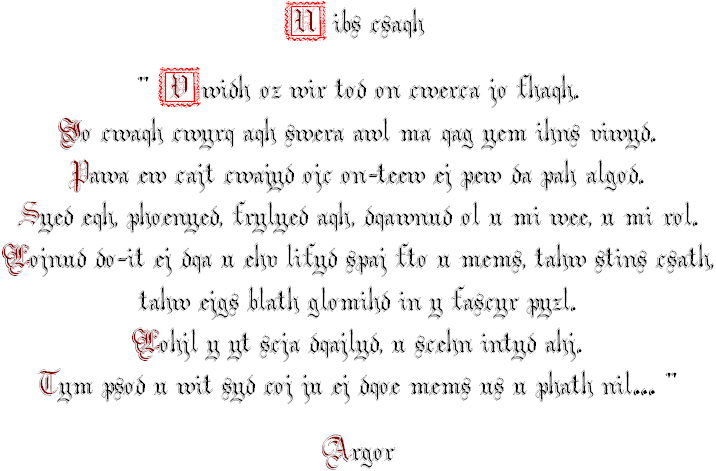 Version Silarg transcrite en Argpal